Tomato – the fruit 
Lycopersicon esculentum or wolf peach was the name given to the tomato by the French botanist Joseph Pitton de Tournefort in the late 1600′s. At that time, he thought it to be poisonous 'cause of it's red colour. The new botanical name for the tomato is of course Solanum lycopersicum. Tomato's believed to have originated from South America 'n spread to the rest of the world through the Spanish. Because of it's usually high acidic content, the tomato's used more like a vegetable than as a fruit. But technically, it's a fruit that comes from the ovary of the flower. Similar to Squash, Pumpkin, Beans, Eggplant and Sweet pepper. Which're all technically fruits but considered as culinary vegetables.
Tree tomato 
India Today had featured Chowder Singh in their anniversary special issue. They were wanting a profile photograph for this. As I was in Chennai that time, they got a local photographer Sumant to click it. As this was more a street food story, Sumant asked me to meet him in North Chennai. Close to the Central railway station. Since I was going there, I reached a couple of hours earlier 'n started off with my favourite pastime – Hunting for street food. While roaming around I saw a local street vendor selling Mangosteen. I was a bit curious. Mangosteen's more a South-east Asian fruit. That's usually imported into India from Thailand. I'd expect this more in a supermarket or a fancy restaurant than in some street vendor's stall at a cheaper sorta price. Then I saw this unusual looking egg-shaped fruit. I'd never seen anything like than before. I tasted it. And it felt almost tomatoey, but sweet. Hmmm! I asked the vendor what it was 'n he told me 'Maram Takkali'. I guessed this must be some local fruit. And went on.
I met Sumant at our designated place. We started our hunt for a good street food location for the shot. But the 'Maram takkali' was still bothering me. So I asked Sumant 'bout it. He said that he'd never heard of it. Aha! I was thinking this was some common local fruit. But it wasn't. Sumant did explain the meaning to me. It translated as Tree tomato. This got me really excited. And I dragged Sumant back to the fruit vendor to understand this better. The vendor explained to Sumant, who translated to me that this fruit came from Ooty 'n is pretty much only found there. And this's a tomato that grows on a tree. Hence the name Maram takkali or tree tomato. Hmmm! I was so excited to find the Tree tomato or Tomarillo in Chennai that I went 'n shot a video with the vendor explaining what this fruit was 'n how according to him this's used in Ooty to help fight diabetes and hypertension.
Not finding anything else to do, Sumant shot a very cool photograph of mine while I was shooting this video. Truly original, heh!
Video of the street vendor explaining the Tree tomato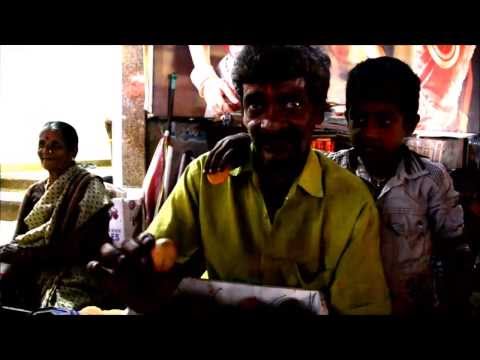 Location of the Tree tomato stall in Chennai

View Sri Raju's Tree Tomato Fruit Stall in a larger map
The Maram takkali or Tree tomato's only available in the months of April, May, June, July 'n August. I pretty much caught the last consignment out of Ooty. Feeling smug

About Chowder Singh's local Chennai food guide
This guide has references to Chowder Singh's favourite street 'n local food in Chennai 'n offbeat eating places. Along with original photos 'n location on Google maps. Kindly note that Chowder Singh pays for all his meals. There are no listings against freebies or payment. And absolutely no going around looking for free jigarthanda. If you've had the Tree tomato or other unusual fruit in Chennai. Please do share your experiences. Either in the comments section below. Or in the Chowder Singh facebook group.
Here's the link  https://www.facebook.com/groups/chowdersingh/
Also, please remember that the pricing of dishes that I've mentioned, are when I've visited. They might change over a period of time. I've still included these as a general guideline. And, please do remember that I write mostly about street food. I try 'n write only about those places, which not only serve good food, but seem to maintain good hygiene practices. I suggest, for safety's sake, it's always better to eat at a street food place which's busy. Also, neat 'n clean. If they're making an effort to keep the place clean, you can be reasonably sure that they're also making an effort to serve hygienic food. But I'd say always go by your own instinct. And if you're not sure, but still like to try, then have only the cooked stuff that's still warm. Safer that way.
You just might find the Tree tomato in your backyard market. Happy hunting 'n chow-chow!