The Bhujing of Agashi 
The Bhujing was created at Agashi Bhujing centre in 1940. In this area called Agashi, next to Virar. On the outskirts of Mumbai. Though not well known outside of the Virar-Vasai area. In these parts, it's popularity's unparalleled. Virar is one of the last stops on the Western line of the Mumbai Suburban rail. And Agashi's another 5-odd kilometres from there. I was told by a Mumbai local that the street food in Virar's quite unique 'n there's something called bhujing there. As I was in Mumbai for a few days 'n this sounded very exciting. I set off for Virar as soon as I got some free time. After an hour an fifteen minutes on a Virar fast train, I landed there. Not very sure of where to go. I took a chance 'n headed west. Started my hunt from the station itself. But none of the auto guys, shop owners could guide me on where to get bhujing.
I guess it ain't that common. At least commercially. So finally one auto wallah told me he'll take me to a Bhujing place. This's was after half-an-hour of soul searching 'n having eaten two very average vada pav near Virar station. I was bit desperate by now 'n took the plunge. After travelling 10 minutes in the auto, I was having serious misgivings. Where was this guy taking me? I asked him, how much more time 'n he said another 5 minutes. It did cross my mind at this moment that there's a good chance I might be getting kidnapped 'n end up inside some mafia don's adda. Hmmmm! Fingers were crossed. But the good thing was that the scenery on both sides of the road was quite stunning. And the auto wallah was a sweet guy. Didn't quite have the feel of a real kidnapping

This was Mumbai alright, but very unlike our Shobha De's Mumbai. The glitz, glam 'n tall buildings were replaced by beautiful green paddy fields 'n a stunning mountain scenery in the horizon. But trust me, this was Mumbai. I could feel it. It might have been just a little less cosmopolitan. But it had the same madness 'n chaos. Lot's of 'em Gujaratis, East Indians 'n others who are part 'n parcel of the main Mumbai's social fabric, live here. Not just Maharashtrians. And foreigners too. I'm guessing these were students.
Finally the auto dude stopped. The board in front said Agashi Bhujing Centre. Finally, I was there. I was very excited 'n went it. But the cold reception that I got 'n non willingness to let out any info was a big let down. But still I probed on. Finally the person at the counter relented 'n directed me to what he called their workshop behind. Here I encountered the sweetest-warmest person, who was cooking chicken on this huge charcoal pit. He welcomed me warmly 'n showed me 'round. The contrasts were very surprising.
Agashi Bhujing Centre 
He then took me through the entire process of how's the bhujing made 'n I quickly took photos 'n shot a video with him. Bhujing very simply, is roasted, then fried chicken. Mixed with pohe or flattened rice 'n a special masala mix. But hey! It ain't that simple. The chicken's first dry marinated with a spice mix of jeera, turmeric, salt 'n coriander seed, along with sliced potato. It's then skewered 'n cooked on charcoal. Post that, cooked again with a little bit of oil 'n sliced onion in a vessel that's covered with a thali with water on top. This acts almost like a combi steamer/fryer. Resulting in cooked chicken that's still moist 'n juicy. This's then mixed with a dry ground coarse powder of cinnamon, cardamom, cloves, garlic, green chilly 'n dry coconut. And finally, the nylon pohe or very thin pohe, that's supposed to be the best quality of pohe's mixed with the cooked chicken.
The end result's exceptional 'n definitely worth the long train ride. And I still crave bhujing in my dreams

Awesome stuff!
Video on how's the bhujing made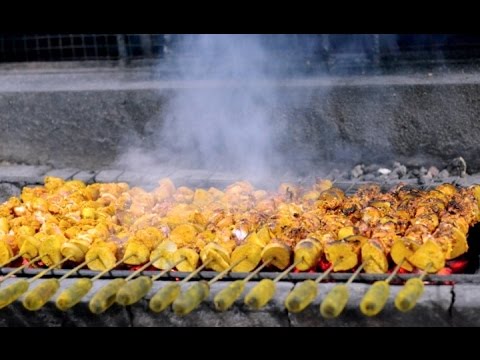 Details of the bhujing place
Address – Agashi Bhujing Centre, near Agashi police station. It's around 5-odd kilometres from Virar west. Once you reach Agashi, you can ask anyone 'n they'll direct you to ABC. Agashi's a very small place.   
Timing – 1 pm to 630 pm
Pricing – The Chicken bhujing's priced at Rs. 120 for a half kg pack.
Phone number – (0250) 6929777. Though there's a good chance that this number might not be working all the time.
Location on Google maps

View Agashi Bhujing Centre in a larger map
About Chowder Singh's local food guide
This guide has references to Chowder Singh's favourite street 'n local food in Mumbai and offbeat eating places. Along with original photos 'n location on Google maps. Kindly note that Chowder Singh pays for all his meals. There are no listings against freebies or payment. And absolutely no going around looking for free vada pav. If you've been to or have feedback on Agashi Bhujing Centre. Please do share your experiences. Either in the comments section below. Or please email at chowderchampion@gmail.com.
Also, please remember that the pricing of dishes that I've mentioned, are when I've visited. They might change over a period of time. I've still included these as a general guideline. And, please also consider that I write mostly about street food. I try 'n write only about those places, which not only serve good food, but seem to maintain good hygiene practices. I suggest, for safety's sake, it's always better to eat at a street food place which's busy. Also, neat 'n clean. If they're making an effort to keep the place clean, you can be reasonably sure that they're also making an effort to serve hygienic food. But I'd say always go by your own instinct. And if you're not sure, but still like to try, then have only the cooked stuff that's still warm. Safer that way.
Happy hunting the Bhujing 'n chow-chow!