The seven islands of Bombay 
Mumbai or the erstwhile Bombay was originally an archipelago of seven islands. Colaba, Little Colaba or Old Woman's Island, Isle of Bombay, Mazgaon, Mahim, Worli 'n Parel. These were connected to each other through a series of land reclamation projects over a period of five centuries. The last of which was the Colaba causeway. Built in 1839 by the British. Before which, Colaba 'n Little Colaba were accessible only during low tide. Though I was decent at History in school. This bit of information seemed to have either been missed in the syllabus or by me. I think its the former. Curiously, I learnt 'bout this while roaming around the streets of Mahim in Mumbai. Hoping to find some original street food, I found this very old-looking sweet shop which had quite a curious sorta name Joshi Booda Kaka Mahim Halwa wala.
I was curious 'n went in. This turned out to have a 225 year old history. Now how many sweet shops have you seen which've a history of 225 years 'n still rocking. I haven't. I then got a superb lesson in history from the owner Mr. Joshi on Booda Kaka Mahim Halwa 'n on Mumbai.
Booda kaka
Mr. Joshi's the seventh generation sweet maker of the family. He's a doctor by profession. And also runs the family business. His great-great-great-great grandfather Giridhar Mavji walked all the way from Jamnagar in Gujarat to Bombay over a period from 1783 to 1787. He stayed in the area of Mahim, which I'm guessing was still surrounded by swamps till the Hornby Vellard project to unite all seven islands of Bombay, was completed by 1839.
Giridhar Mavji 'n later on, along with his son Inder, used to roam around the streets of Mahim selling these wonderful sheets of halwa that they used to make. Quickly enough, this halwa became famous 'n was in demand. Though I didn't get to see photos, I'm guessing Mr. Mavji had a thick loft of grey hair. And sooner or later, he was named Booda Kaka or old uncle  by the residents of Mahim. And the halwa was named after him. The halwa became quite popular 'n a shop was set up. Because this was pretty much a local thingi. Mahim's name got attached to the halwa at some point of time. Hence, Joshi Booda Kaka Mahim Halwa wala. What a wonderful story!
The Mahim halwa is made from wheat extract, sugar 'n ghee. This's cooked together over a very slow fire 'n then spread out over a wooden top, into a thin sheet. And then cut into squares once it cools down. And wrapped in cellophane paper. You now get Mahim halwa all over, but the original stuff's only at Joshi Booda Kaka Mahim Halwa wala.
Video explaining the history of Booda Kaka Mahim Halwa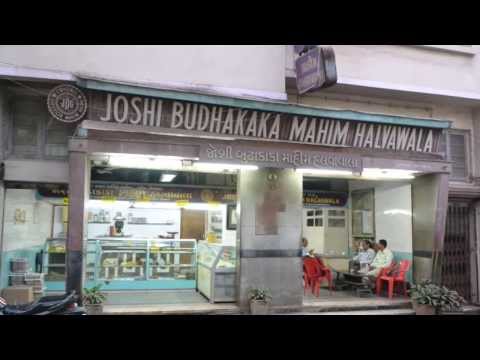 Details of the Mahim halwa place
Address – Off Cadell road, Mahim, Mumbai. Near Mahim Masjid. They have branches in Tardeo 'n Dadar, but you should go to the original one in Mahim. The Mahim halwa's just not about the sweet, but the sense of history that you get from this wonderful 225 year old place.
Timing – 730 am to 8 pm. The shop's shut on Monday.
Pricing – The Mahim halwa's priced at Rs. 400 per kilogram. They also have flavoured versions. I'm not sure 'bout these, though. The original's the one you should have.
Phone number – (0091-022) 24449457
Location on Google maps 

View Joshi Booda Kaka Mahim Halwa wala – Original shop in a larger map
About Chowder Singh's local Mumbai food guide 
This guide has references to Chowder Singh's favourite street 'n local food in Mumbai and offbeat eating places. Along with original photos 'n location on Google maps. Kindly note that Chowder Singh pays for all his meals. There are no listings against freebies or payment. And absolutely no going around looking for free vada pav. If you've been to or have feedback on the Mahim halwa. Please do share your experiences. Either in the comments section below. Or in the Chowder Singh facebook group.
Here's the link  https://www.facebook.com/groups/chowdersingh/
Also, please remember that the pricing of dishes that I've mentioned, are when I've visited. They might change over a period of time. I've still included these as a general guideline. And, please do remember that I write mostly about street food. I try 'n write only about those places, which not only serve good food, but seem to maintain good hygiene practices. I suggest, for safety's sake, it's always better to eat at a street food place which's busy. Also, neat 'n clean. If they're making an effort to keep the place clean, you can be reasonably sure that they're also making an effort to serve hygienic food. But I'd say always go by your own instinct. And if you're not sure, but still like to try, then have only the cooked stuff that's still warm. Safer that way.
Happy hunting the Mahim halwa 'n chow-chow!